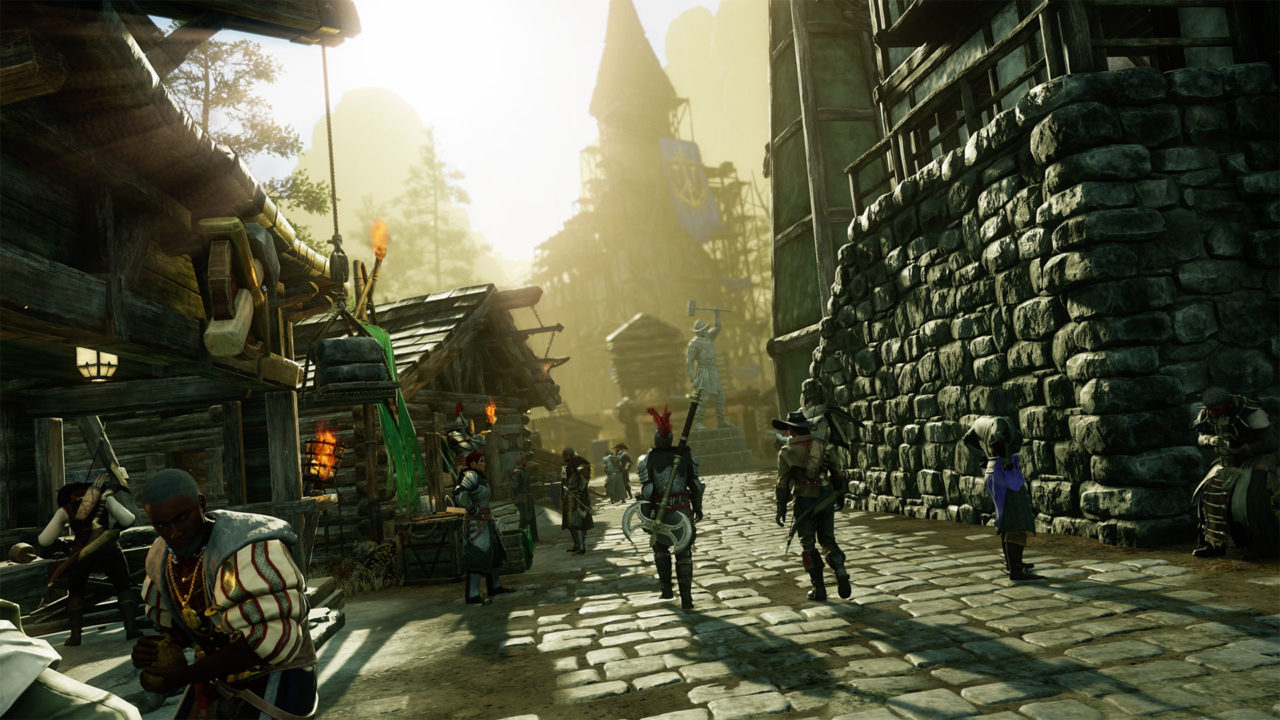 Players are now able to change to their friend's servers…
The hot off the block MMORPG, New World, has been continuously welcoming in new players from around the globe since its launch. Developed by Amazon Games Studio, the game has become popular for several reasons, such as its battle mechanics and atmosphere. Taking place in an alternate 17th century, players work at colonizing a fictional world called Aeternum. While many enjoy the gameplay, New World is not without issues, whether it's server queue wait times, gear clipping, or rumours of bricked GPUs. One of the more recent frustrations players are having is the inability to transfer characters to other servers. However, I bring good news, the developer has listened.
In the title's latest update, server transfers have, in fact, been brought to the game. With the addition of server transfers, players can now move from one world to another. This update is a game-changing move from the developer, as it means players, who were locked into a server at release, can now quickly jump to another server to play with friends. It is worth noting that while this update allows players to join other friends' worlds, they cannot join worlds in other regions. However, this could come in the future from the developer as well.
The developer revealed that the process of adding the server transfer feature had been a priority since the game launched. According to the patch notes, the feature had been tested extensively by the developers over the last 2 weeks.
In the patch notes for the update, the developer listed the steps necessary to complete a server transfer. First, the player needs to log into their character. Once this is accomplished, they must go to the in-game store and claim the character transfer token. According to the developer, the player needs to leave their current Company and remove all Trading Post sell and buy orders. After completing these few steps, the player must travel to a sanctuary location to finish the transfer.
Fortunately, players can breathe a sigh of relief as almost everything earned before the transfer is saved. Some things that transfer over include houses and decorations, inventory and storage, currency, character progression, and quest progress. The few items that fail to carry over to the new server include Company membership and Trading Post orders (these must be terminated before transferring), along with friends lists since they are world-specific.
In other news, October has seen some big next-gen titles being released, including the likes of FIFA 22, Far Cry 6 and Left 4 Dead's spiritual successor, Back 4 Blood. You can purchase all of these titles, as well as pre-ordering Call of Duty Vanguard, from our Go2Games website.
To keep updated with the shop activities and weekly competitions, follow Go2Games on social media:
Instagram: Go2Gamesshop
Twitter: Go2Games
YouTube: Go2games.com