Footwear company The Sole Supplier made some concept art for a line of retro gaming console-inspired trainers and it's a pity we can't purchase them
Like most trends in life, nostalgia is the way forward and gets us reminiscing about the good old days and wanting to relive them through different revivals, reboots, and remakes of entertaining classics. That can be said for footwear, with plenty of companies such as Converse, Vans, Nike, and Puma, collaborating with gaming companies to craft the most nostalgic pairs of gaming-inspired shoes that one can find.
Yet footwear company The Sole Supplier has taken it one step further by collaborating retro trainers with retro gaming consoles in their own Sole Concept titled "Gaming Glam" and have stepped up the game in how footwear brands can make iconic designs for gamers all around the world.
The Gaming Glam Sole Concept
The Sole Supplier released a series of concept designs featuring 80s and 90s consoles paired with trainers like Air Jordan 4s, Adidas Forums, Nike Air Max 97s and Adidas Superstars- with the most modern console used in the collection being the Sega Dreamcast.
The designs are finished to a high standard and have immaculate details that don't make the trainers feel like they stand out too much as video game merch. The Sole Supplier is known for its Sole Concepts and has done other pop culture designs before, one being in the form of superheroes.
The PlayStation console is designed with a pair of Adidas Forums and the grey slate details match perfectly with the buttons on the original d-pad. The triangle, square, cross and circle buttons on the side of the trainer also add a nice touch of nostalgia and are what make you realise this isn't an ordinary pair of grey trainers.
The SNES EU console is also paired with Adidas trainers but this time it's the classic Adidas Superstars. Much like the PlayStation design, the grey slates match perfectly with the d-pad and the coloured buttons are the perfect touch to make people recognise this as the Super Nintendo model.
The GameCube turned 20 this year and it's a shame we don't actually have these colourful trainers available to purchase as the purple shade looks incredibly slick and stylish in the Air Jordan design and would be an instant hit for its fans. The additional GameCube tag really brings the whole design together too.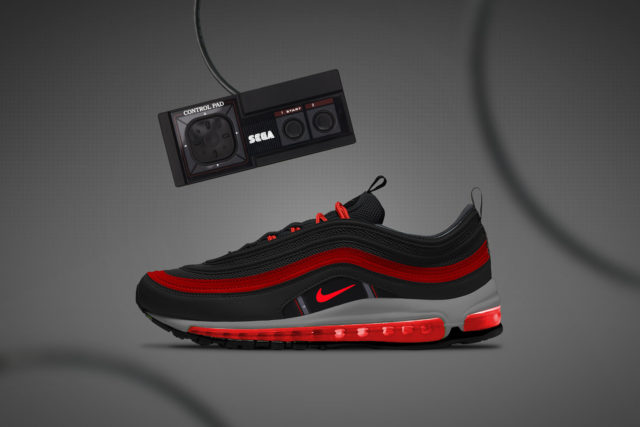 The Sega Mastersystem even gets its own rebranding on a pair of Nike Air Max 97s and the black and red shades blend beautifully well together. The crimson ripple travelling through the middle is certain to catch anybody's eye yet doesn't look too outlandish either.
Here's to hoping something similar will be made sometime soon.
Sign up for our newsletter from the website.
Instagram: Go2GamesShop
Twitter: Go2Games
Youtube: Go2Games.com
Facebook: Go2Games.com