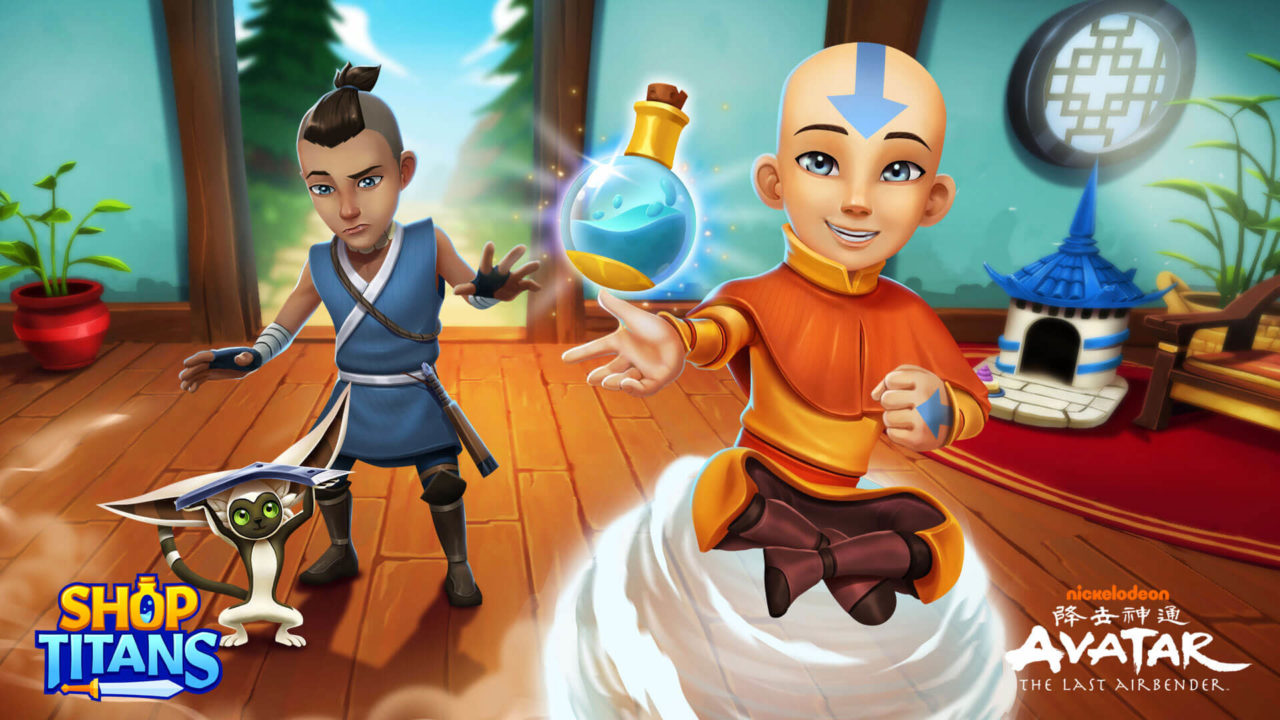 Two weeks into the Avatar: The Last Airbender event on Shop Titans and here's why you should download it!
Shop Titans, the RPG simulator that allows players to craft and enchant equipment and tools, stock up their shop, and sell their items to aspiring adventurers, is currently in the process of a massive special event.
Launched on November 2, Kabam Games joined forces with Nickelodeon for an Avatar: The Last Airbender event to take place spanning across the entire month. Here's everything you need to know.
Shop Titans x Avatar: The Last Airbender
The ATLA-themed Content Pass consists of plenty of content from the beloved cartoon, including new guest Champions from the show itself, Aang and Sokka, that guide players through their missions, gear and equipment that players can craft and use, like Sokka's boomerang.
Aang is able to increase the Attack and Defense of the group and can also find bonus loot in the form of Elements. He visits the player shops each day of the entire month and requests different items in exchange for five Champion Coins. Meanwhile, Sokka gives bonuses to the ATK and HP of the team as party leader. He helps increase the number of components found and even the XP earned by the whole party. Unlike Aang, Sokka only starts visiting the player's shop once they have some of his coins from the Content Pass. He then visits daily giving five Champion Coins for completing his request.
Players can dress their adventurers as their favourite benders and use decorations to make their store look like Lord Ozai's Throne room or adorn the yard with a lying Appa.
Shop Titans is also offering two seasonal packs, with the Fire & Air pack having already been released on November 5 and the Water & Earth pack releasing on November 19th. (Let's ignore the fact Zuko has no scar in the promo tweet).
❤️‍🔥 Watch out this Fire and Air Mega Pack combo is coming in hot and here's your CHANCE TO WIN!
How to win:
🥰 Tell us what your favorite thing about the release so far!
✅ Tag a friend
👀 Follow @ShopTitansGame

Rewards:
👘Aang's Robe
😪Sleepy Appa
🪁Aang's Air Glider pic.twitter.com/ptfLqgOXnI

— Shop Titans (@ShopTitansGame) November 4, 2021
The ATLA content pass is still up for grabs and plenty of rewards are still to be unlocked so why not download Shop Titans today!
And if you're sad to see this go, there's currently an Avatar: The Last Airbender mobile game in the works!
Sign up for our newsletter from the website.
Instagram: Go2GamesShop
Twitter: Go2Games
Youtube: Go2Games.com
Facebook: Go2Games.com