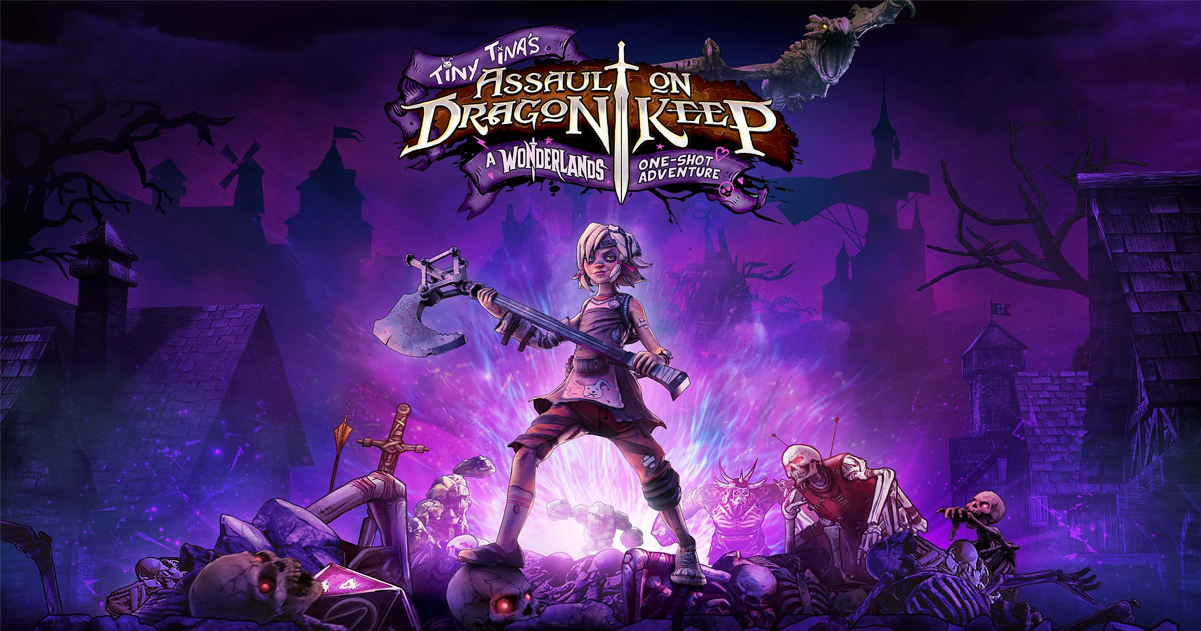 DLC has been central to Borderlands since the very beginning. Each Borderlands release has had additional content, such as DLC campaigns, additional playable characters, or downloadable skins. Some DLC campaigns, however, offer a markedly different experience to others, and as of today, one of the most popular Borderlands DLC campaigns – Tiny Tina's Assault on Dragon Keep – can be purchased separately.
DLC has Always Been a Big Part of Borderlands
Borderlands 2 brought so many new elements to the table, including the infamous Handsome Jack, and streamlined gameplay mechanics. As a result, Borderlands 2 set the standard for all subsequent games. The DLC campaign Tiny Tina's Assault on Dragon Keep was a favourite for many of the game's fans. Now, players can experience the classic DLC campaign on next-generation systems.
A tweet from the official Gearbox account today revealed Tiny Tina's Assault on Dragon Keep: A Wonderlands One-Shot Adventure will be available on next-gen systems separately. The campaign is also available for purchase on last-gen systems and PC. It was also announced by Gearbox Software that the re-release includes new cosmetics and loot for players to collect.
Smash skellies 💀 defeat dragons 🐲 & score sweet magic loot ✨ in Tiny Tina's Assault on Dragon Keep: A @PlayWonderlands One-Shot Adventure! 🙌 Play the quest that started it all in this standalone campaign! 💥

Get AODK https://t.co/BkHQg9YyKX pic.twitter.com/74nN2FjOt5

— GearboxOfficial (@GearboxOfficial) November 9, 2021
In addition to releasing on nearly all major platforms, Tiny Tina's Assault on Dragon Keep is also available for free on the Epic Games Store until November 16th. Seeing such a beloved DLC campaign on updated systems is exciting. It's quite unexpected for players to be able to purchase this campaign as a standalone since DLC campaigns are separate from the primary game.
What is Tiny Tina's Assault on Dragon Keep?
This a stand-alone release of a fan-favourite DLC. Many players consider Tiny Tina's Assault on Dragon Keep to be one of the best Borderlands DLC campaigns. Tiny Tina's quirks, along with the imaginative framing, make for an engaging campaign. Few other video game DLC campaigns have been built on a tabletop game in the style of Dungeons & Dragons. It created a lasting effect on those who played it, with such a novel idea handled by such a distinctive figure.
As well as giving players an opportunity to catch up on the story, the standalone release allows them to prepare for Tiny Tina's Wonderland, a Borderlands spin-off that takes place immediately after Assault on Dragon Keep. This will hopefully give fans of the series a unique opportunity to experience the DLC campaign on newer systems to prepare for the upcoming spin-off game.
Tiny Tina's Assault on Dragon Keep: A Wonderlands One-Shot Adventure is now available for PS4, PS5, Xbox One, Xbox Series X, and PC. Tiny Tina's Wonderland will be available March 25th, 2022 also across the same platforms.
Never had a chance to dive in to Gearbox's top franchise? Pick up a copy of Borderlands 3 or Borderlands: The Handsome Collection from our store now!
Don't forget to subscribe to the Go2Games newsletter for updates on the latest gaming news and deals, and follow our socials below!
Twitter: @GO2GAMES
Instagram:go2gamesshop
Facebook: Go2Games.com
Youtube: Go2Games.com
Store: go2games.com