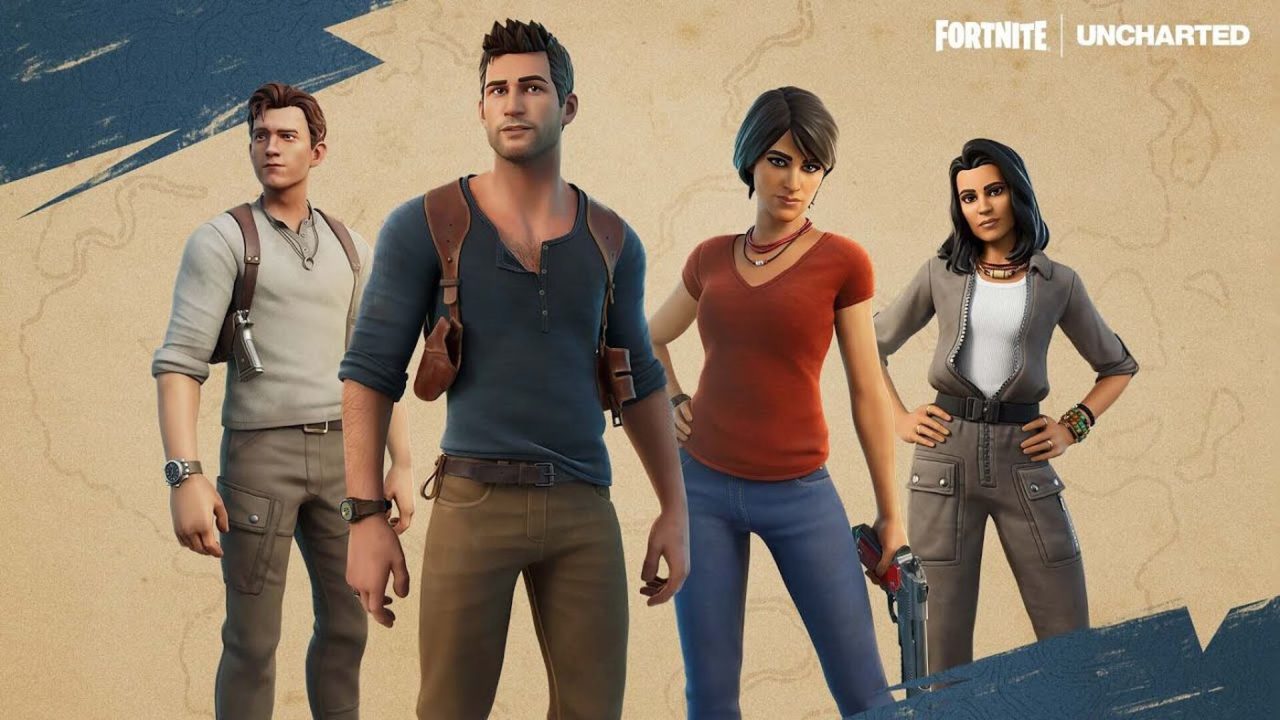 Here we go again Fortnite fans! You're being treated well this year already, aren't you? In recognition of the upcoming Uncharted film, skins for our favourite Sony stars, Nathan Drake and Chloe Frazer, will be dropping into Fortnite on February 17. We imagine this is Epic Games late Valentines gift, no?
Fortnite fans will know that this crossover has been teased for over a week now, when players took the task of trying to solve a riddle with a 14 character password. Obviously, we all relished the opportunity to be put on our detective hats and try figure it out. Unfortunately, some of struggled, which is why creators like the @thesquatingdog come in handy. They managed to decipher the riddle, revealing that the password was 'sicaparvismagna'.
What could this mean however? Well, those who have played the Uncharted games will recognise it as being the Latin phrase from Sir Francis Drake's ring that Nathan Drake owns. Interestingly, it is also linked to the real life Sir Francis Drake too. Ain't that exciting? Anyway, once the password is entered, users are taken to an unlisted video on Fortnite's YouTube channel that shows the Outfits in action. Check out the official reveal trailer for the squad down below:
Both Film And Game Versions of Uncharted Arriving On The Island
Not only will be receiving the game accurate versions of the two infamous characters, it has been revealed we will also get the film iterations of them too! This means that once again we'll see Tom Hollands Fortnite face, following up upon his appearance  as the webslinger Spider-Man. If you want to know who else appeared from the Spider-Man roster, check out this quick article here!
According to reports, the different styles can be switched at any time in the Locker, so that'll be extremely handy! Additionally, it looks like Chloe's outfit will also be sold with her Pack Back Bling, with other items including the Second Hand Saber Pickaxe, Parashurama Axe Pickaxe, and Update Journal Emote. There's plenty of Uncharted fun to be had here it seems!
Furthermore, it looks like there could some more treats in store. The YouTube description also teases that, "after Nathan Drake spends some time on the Island, he'll leave behind some treasure maps for you." Once a map is discovered, it will lead players to buried treasure that can be dug up with a Pickaxe. Epic Games says the Uncharted items will appear in Fortnite's item shop on February 17th, just ahead of the Uncharted movie release. Check out the trailer for the film below and make sure to pick up a copy of the Nathan Drake collection here!
Sign up for our newsletter from the website.
Instagram: Go2GamesShop
Twitter: Go2Games
Youtube: Go2Games.com
Facebook: Go2Games.com