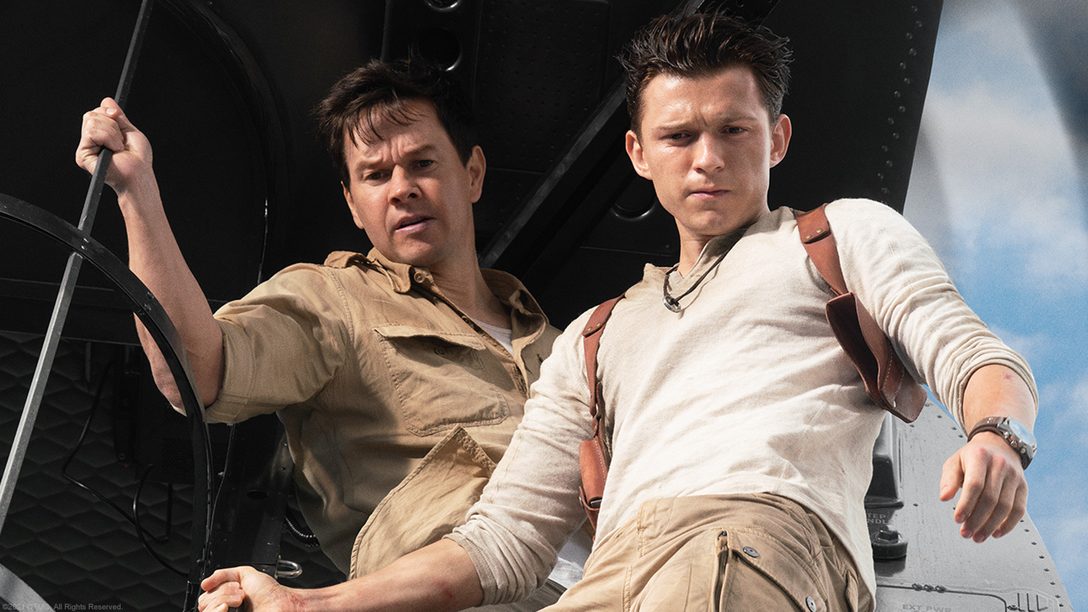 The wild adventures of Nathan Drake are soon to be hitting the big screens, and as such, the promotion has swiftly begun! This includes a recent poster Sony have just unveiled for Uncharted, showing off Tom Holland's stunt skills as he hangs on for dear life falling out of a plane.
Previously, this scene was shown the in films latest trailer (showcasing some interesting physics we must say) and looks set to be one of the films many exciting action sequences. Obviously, fans of the franchise will recognise the set piece from the third entry in the series- Uncharted 3 Drake Of Deception.
However, it looks like this new poster is also inspired by a poster for the game too. Check out the similarities of the two down below:
Uncharted Cast Give Fans Reasons To Be Excited
Who's excited for this one then? I certainly am! Surprisingly, the first Uncharted movie release date was way back in 2016, with Mark Wahlberg attached to the role of Nathan Drake. Six years on, he is now set to play Drakes wise mentor on the big screen come February 18, 2022.
As a result, Spider-Man actor Tom Holland will instead take the helm, playing a younger version of the character than we've seen previously. Other cast members include Truth or Dare's Sophia Taylor Ali, who will be playing Chloe Frazer. Those familiar with the games know her as a fellow treasure hunter who was introduced in Uncharted 2: Among Thieves as well as leading her own game Uncharted: The Lost Legacy.
Who will be playing the big bad in this one though? Well, none other than Zorro himself- Antonio Banderas! Interestingly, his character looks set to be its own original creation for the film. Perhaps they have taken some inspiration from some of the games villains? We'll just have to wait and see.
Additionally, Tati Gabrielle will have a role in the film, but we're not entirely sure what her role will be yet. Could she be playing Drake's eventual wife, journalist Elena Fisher? There's only way to find out and that's to line up with your tickets come February! If you want to get involved with some Uncharted fun, then head on over to our store .
Sign up for our newsletter from the website.
Instagram: Go2GamesShop
Twitter: Go2Games
Youtube: Go2Games.com
Facebook: Go2Games.com