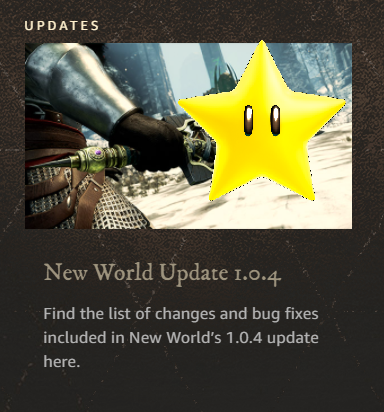 Amazon's foray into the world of gaming with New World has been off to a Rocky start!
First it's removing character customization from full in-game servers, then gear clipping woes, a bug for kicking off players via messages, reducing number of players and more! Patches have fixed most of the main issues, including the most recent glitch, a method of invincibility received by moving the window of the game during play.This sparked a conversation from some (and by some, I mean Reddit and Twitter discourse) questioning whether the exploit was intentional due to Amazon being 'client authoritative', which isn't exactly the most likely presumption. I watched CJ The X's multi-hour long heavily cited deep dive into Jeff Bezos and reading Bo Burnham's soul for filth, one of the big takeaways from that video is essentially "say what you will, but Bezos loves the customer the way a Fujoshi loves yaoi paddles"… I'm exaggerating, but not by much!
While you're here, I've heard some compare New World to a 'Colonialism simulator', so if you want a story-based gaming experience that definitely touches on a perspective on colonialist takeover, have a butcher's at our store for our special edition PS5 and PS4 versions of Greedfall.
On Friday, Amazon stated in an official forum site for New World that the game is 'not client authoritative'. The statement then goes on to read as:
 'New World is entirely server based. At a high level the model is this: clients dispatch controller inputs to the server, and the server then checks that input for limits that might invalidate it, then if accepted uses it as an input to a character ("actor" is our internal name) within server memory'.
This 'server based' claim was also supported by community manager Luxendra, stating: 'we do full physics detail for all such actions. Upon receiving the outcome, either hit or miss, the client will adjust its visual display to match what the server has determined. There are some client side tricks we use here to 'stretch' the animation while the client is waiting for the server answer, but the outcome is always based only on the server answer'… In lay terms 'we do lots of checking and managing to make sure things run smoothly in-game, but at the end of the day, the server's own analysis and outcome is king'. So, oddly enough, THANK GOD the machine didn't pick up an issue this time round, because again, CJ's infinite droves of galaxy-brained genius incoming, but it's a very real possibility that cyborg transhumanism will indeed become a thing (and to a degree already is). Even Stephen Hawking and a bunch of other big-name scientists signed the Open Letter on Artificial Intelligence that essentially boiled down to "don't fiddle too hard with Artificial Intelligence, or it may fiddle you back"… I'm exaggerating, but not by much!
As of yet, around 8% of New World players have reached max level and the game is sitting comfortably as one of Steam's Top 3 most played games.
Sign up for our newsletter from the website.
Instagram: Go2GamesShop
Twitter: Go2Games
Youtube: Go2Games.com
Facebook: Go2Games.com
Store: Go2Games.com