If you thought February was a jam-packed month for gaming, well you haven't seen anything yet! March looks set to be one of the best gaming months in quite sometime, especially for PlayStation Now fans. Stacked with high-profile releases, we're here to give you the rundown you need to make the wise and difficult decisions ahead.
Let's not hang about then! Here's a list of the games we're most excited to get our hands on this month!
Shadow Warrior 3- March 1
Starting things off is the latest entry in the Shadow Warrior franchise- Shadow Warrior 3. Launching the 'offbeat first-person shooter series to the next level', the game is set to be the best looking entry by Flying Wild Hog. With seamless fast-paced gunplay, razor-sharp melee combat and a spectacular free-running movement system, it looks set to start March off with a bang!
Babylon's Fall- March 3
Yesterday afternoon, we sat down and wrote about why you should be excited for the upcoming release of Babylon's Fall. With only one day to go, our excitement levels couldn't be any higher. In this cooperative action RPG, you take on the role of a Sentinel, once conscripted prisoners of the Empire who are granted unrivalled powers by a parasitic device implanted to their back: The "Gideon Coffin". With thrilling combat mechanics intertwined with various other interesting game play features, this is an early shout for game of the month, that's for sure!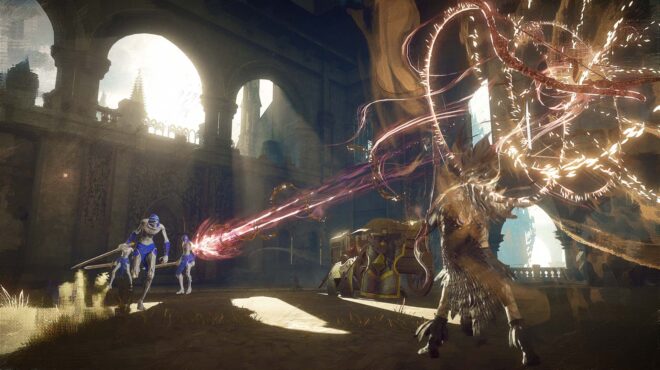 Gran Turismo 7- March 4
After years of problematic development, racing fans with be overwhelmed to finally get behind the wheel of  Gran Turismo 7. The franchise looks set to once again raise the bar for racing titles. Jam-packed full of exciting vehicles, exotic tracks and a plethora of customisation options, Grand Turismo 7 looks set to be the definitive driving experience on current gen consoles thus far.
Triangle Strategy- March 4
This ones a bit of a throwback to yesteryear, being a tactical-turn based JRPG and all. Whilst it may be a bit of a niche market, for those interested it looks set to deliver on all your expectations. An absolute love letter to fans of the genre, try out the Triangle Strategy demo if you want to get involved! In this deep, branching story, guide Serenoa Wolffort and his faithful companions through strategic battles and arduous moral choices. Will you espouse virtuous morality, unwavering liberty or pragmatic utility?
WWE 2K22- March 11
Similar to Gran Turismo, we've been feeling a bit empty without a great wrestling game in our lives. That certainly looks set to change. 2K Games and developer Visual Concepts are delivering overhauled controls and updated visuals, as well as a variety of new features including MyGM and Faction Wars. Get ripped out of the stands and hit with complete control of the WWE Universe. Hitting this hard has never been so easy.
Grand Theft Auto V- March 15
It's groundhog day again everyone. No you haven't been transported back to 2013 when Rockstar's sandbox adventure first hit our screens, but instead the infamous company has decided to release ANOTHER version of the game on the newest generations and, do you know what, we aren't complaining! For this edition, you can expect new graphic modes that support resolutions up to 4K and frame rates up to 60fps, improvements to texture quality and draw distances, as well as HDR options and ray-tracing. With GTA 6 now in development, get your last fix of GTA V to say goodbye to arguably the best game of the last decade.
Tunic- March 16
After an interesting little demo, this indie title has definitely captured our attention. Explore a land filled with lost legends, ancient powers, and ferocious monsters in TUNIC, an isometric action game about a small fox on a big adventure. We cannot wait to see what's in store for this one!
Stranger Of Paradise: Final Fantasy Origin- March 18
In this hard-core action RPG, Jack must face numerous challenges to bring the light of the crystals back to Cornelia, a kingdom conquered by darkness. Features action gameplay where you use a wide variety of action moves to survive furious battles and scatter your foes before you, as well as RPG elements collecting numerous different jobs and weapons to customise and develop your characters. The game can be enjoyed at several difficulty levels. Will restoring the crystals' light usher in peace or a new form of darkness?…or perhaps something else entirely?
Tiny Tina's Wonderlands- March 25
Embark on an epic adventure full of whimsy, wonder, and high-powered weaponry! Bullets, magic, and broadswords collide across this chaotic fantasy world brought to life by the unpredictable Tiny Tina. Roll your own multiclass hero and loot, shoot, slash, and cast your way through outlandish monsters and loot-filled dungeons on a quest to stop the tyrannical Dragon Lord. Everyone's welcome, so join the party, throw on your adventuring boots, and be Chaotic Great!
Kirby And The Forgotten Land- March 25
The next Kirby adventure on Nintendo Switch is going 3D! In this new game, players can freely navigate 3D areas using familiar Kirby copy abilities. What lies in store for Kirby as he explores a mysterious setting filled with abandoned structures from a past civilisation?
So there we have it! That's our list of the biggest games coming to our screens March 2022. Any other suggestions which didn't make our list? Let us know down the comments below! Meanwhile, head on over to our store to pick up some of these titles and pre order the others!
Sign up for our newsletter from the website.
Instagram: Go2GamesShop
Twitter: Go2Games
Youtube: Go2Games.com
Facebook: Go2Games.com
Store: Go2Games.com