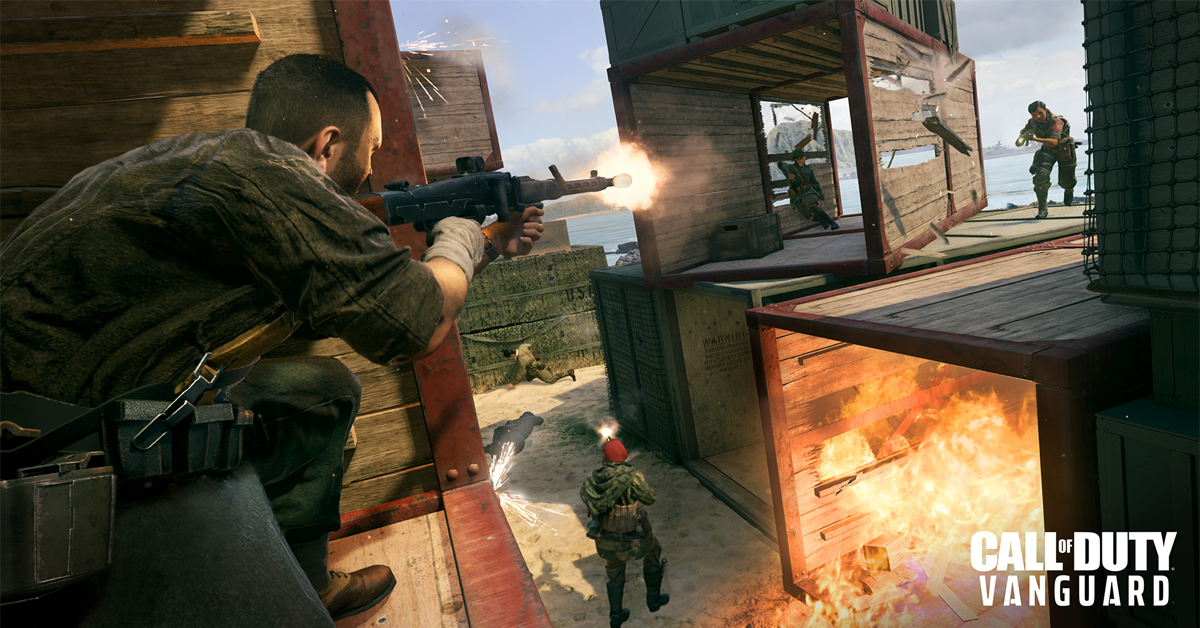 The classic Shipment map from Call of Duty 4: Modern Warfare gets a new appearance in Call of Duty: Vanguard's November 17th update. The fan-favourite has been given a redesign for the World War II setting. A few bug patches are also included in the patch notes for the 3GB update, including a fix for one that stopped players from equipping weapon camos.
Shipment is available for players now in a 24/7 mixed mode playlist. The map was the smallest from the original Modern Warfare's selection. It has reappeared in a whole bunch of CoD titles over the years.
This time however the map has destructible walls, down to some of the shipping containers being bulletproof. This is because it features destructible walls and windows from Vanguard's map pool.
In addition, the patch notes indicate a solution for PlayStation 5 players who were previously unable to start Vanguard if their console had less than 40GB of free space.
The update also fixed a glitch that caused players to crash while trying to submit a clan invite, as well as a bug that stopped players from equipping camos to their guns.
There's a free Access Multiplayer weekend coming up Call of Duty: Vanguard, running from November 18th-22nd.
Heres's the patch notes for November 17th, as posted originally by Sledgehammer..
Maps:
Shipment now available in public matches
Global
PS5 – Resolved issue where players could not start up Vanguard if they had less than 40gb of space available
Weapons
Fixed bug preventing players from equipping camos
Players can no longer equip camos they do not own
Clans
Fixed issue where Clan Members would crash when attempting to send a clan invite
Progression
Corrected inconsistencies for Next Unlock in the Operators Tab
Zombies
Scoreboard
Addressed an issue where players could not view the Scoreboard after dying or after Exfil.
UI
Addressed an issue where players could not view Armor Health in the HUD.
Objectives
Addressed an issue where Objectives would not start properly, preventing progression.
So that's the run down of Call of Duty: Vanguard's latest update.  The fact the game is free this weekend will hopefully draw some in new players, and makeup for what is regarded as one of  the worst UK CoD launch's in 14 years.
Despite it's flaws though, the latest entry in the Call of Duty franchise still has a lot to offer, and can only improve through patches and updates as demonstrated by the addition of Shipment.
Sledgehammer are certainly not neglecting the game, and hopefully they will continue to address the games various bugs and glitches.
Call of Duty: Vanguard is available to purchase in our store for Xbox Series X now! Read all about the latest Call of Duty news and updates here!
Don't forget to subscribe to the Go2Games newsletter for updates on the latest gaming news and deals, and follow our socials below!
Twitter: @GO2GAMES
Instagram:go2gamesshop
Facebook: Go2Games.com
Youtube: Go2Games.com
Store: go2games.com