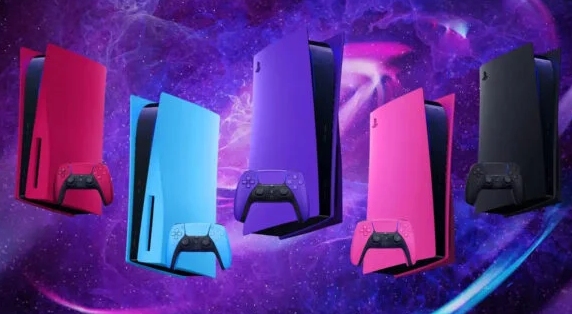 Speak of the devil and he shall appear! To cut a long story short (which you can find out more on here), the folks at PlayStation have been in legal squabbles with the folks at Dbrand because they both want to make PlayStation console faceplates! Yadda, yadda, yadda, patents bad, artistic cancel culture, you know, sunshine and rainbows all around.
PlayStation recently announced it's 'console covers' will be releasing in January 2022, coming in 5 different colours as shown above, set to match with the current and upcoming coloured controller variants. The upcoming controller colours are confirmed to be Nova Pink, Starlight Blue and Galactic Purple, so I guess someone's been taking notes from the Nintendo School of Controller Naming… Not that I can blame them, I mean, 'neon green' and 'metallic black' sound like perfume chains launched by BTS!
Despite the January 2022 global release, Galactic Purple will be coming to the PlayStation Direct online store early in the US, UK and Germany. Sales there will start on January 14th, while the full global release will roll out to other retailers on February 11th. Black and red versions will be available via the store from January 21, while other retailers get them on February 18.
Do you want the bad news or the good news first? When the Dbrand madlads started selling their PS5 Darkplates in February this year, they sold out within a few hours and will currently be out of stock until May! The good news (for PlayStation) is that Dbrand had to release a statement a month ago declaring how 'Darkplates are dead', after a cease and desist letter from Sony lawyers threatening to sue if they continued… Yayyy capitalism!!!
PLOT TWIST, days later the Dbrand madlads released ANOTHER statement essentially saying "oh, honey boo boo, we said Darkplates are dead, we didn't say anything about Darkplates 2.0", at which point, every PlayStation exec decided to commit honorable sudoku in the bathtub with Keurig's latest Ribbed For Her Pleasure Coffee Machine… I'm exaggerating, but not by much.
Product Poems:
Darkplates and Dark Souls imply existence of Dark Bowls and Light Souls?
There was once a young woman named Barbie, one day she got bit by a zombie! But she didn't turn, for soon she would learn, she had no brains- "oh, harder Harvey"!
Sign up for our newsletter from the website.
Instagram: Go2GamesShop
Twitter: Go2Games
Youtube: Go2Games.com
Facebook: Go2Games.com
Store: Go2Games.com