and it looks… surprisingly good?
As we know, a feature film adaptation of Gearbox's Borderland game series has been in production for a while. Well, we can tell you now, it has finally finished filming.
When Lionsgate's adaptation was announced, fans felt a mix of excitement and nerves, as we always do with film adaptations of games. We know from the past that they rarely recreate the same magic as their video game counterpart. It will be tough to recreate the world of Pandora's whacky brilliance. However, some of the details we've seen so far provoke some optimism.
For example, the cast is actually surprisingly impressive. It includes Cate Blanchett (Lilith), Jamie Lee Curtis (Dr Patricia Tannis) and the always hilarious duo of Kevin Hart (Roland) and Jack Black (Clap Trap). This cast, alongside the director-writer duo of Eli Roth and Chernobyl writer Craig Maxin, means we may actually have something to be excited about.
I'm particularly eager to see how Jack Black's Claptrap translates to the big screen. I personally love that casting selection and have high hopes for Claptrap's movie endeavours. Although we do not have excessive detail to go on for most of the characters, we at least know how Jack Black's claptrap will appear on the screen (see below).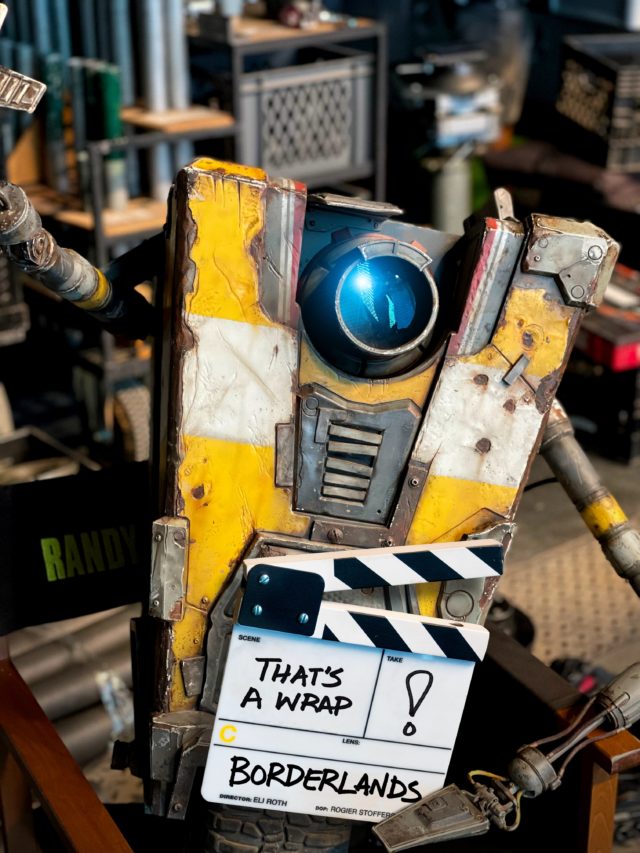 It appears that Claptrap will be maintaining the same look on the screen. On the other hand, the other characters have been kept in the shadows (quite literally, see below).
BORDERLANDS#Squadgoals. LILITH, ROLAND, TINY TINA, KRIEG, TANNIS & CLAPTRAP.
They form a family band, psychos get fried, wounds open and heal and I promise you…YOU'VE NEVER SEEN ANYTHING LIKE IT! @borderlandsfilm @DuvalMagic @realeliroth@gearbox
@lionsgste@picturestart pic.twitter.com/jErz5fCDD7

— Jamie Lee Curtis (@jamieleecurtis) June 4, 2021
Despite their faces being kept in the dark, it seems our favourite characters will be maintaining a lot of the same appearances as in the games (at least outfit wise).
The film's synopsis reads as follows "Lilith (Cate Blanchett), an infamous outlaw with a mysterious past, reluctantly returns to her home planet of Pandora to find the missing daughter of the universe's most powerful S.O.B., Atlas. Lilith forms an alliance with an unexpected team – Roland (Kevin Hart), a former elite mercenary, now desperate for redemption; Tiny Tina (Arianna Greenblatt), a feral pre-teen demolitionist; Krieg (Florian Munteanu), Tina's musclebound, rhetorically challenged protector; Tannis (Jamie Lee Curtis), the scientist with a tenuous grip on sanity; and Claptrap (Jack Black), a persistent wiseass robot. These unlikely heroes must battle alien monsters and dangerous bandits to find and protect the missing girl, who may hold the key to unimaginable power. The fate of the universe could be in their hands – but they'll be fighting for something more: each other.
The news of the filming coming to an end comes shortly after the new Borderland spinoff game 'Tiny Tina's Wonderland' was revealed at E3, 2021. Borderlands fans have a lot to look forward to in the next two years.
In terms of a release date, due to filming having just finished, we predict the post-production processes will mean a 2022 release.
To keep updated with the shop activities and weekly competitions, follow Go2Games on social media:
Instagram: Go2Gamesshop
Twitter: Go2Games
YouTube: Go2games.com
Facebook: Go2Games.com