Everything we know so far…
The sequel to the classic RPG Skyrim has been shrouded in secrecy since its announcement in 2018. Another E3 has passed us, and once again, we did not hear anything new regarding the upcoming Elder Scrolls instalment. All we know for sure right now is that the game is definitely still in development. It is nearing 10 years since the game's predecessor, Skyrim was released,  and 3 years since the successor was announced. Yet, we have not received even a rough release date.
From E3, 2021, we found out that Bethesda is currently focusing on its upcoming Sci-Fi RPG, Starfield. Bethesda's Todd Howard confirmed that the game will indeed be coming after Starfield. Starfield is due for a November 2022 release date. This, alongside the fact that Howard also recently said to consider Elder Scrolls 6 as still in the 'design phase', means we likely won't see Elder Scrolls 6 until at the earliest late 2024. Realistically, the wait could even be a couple of years longer than that, depending on where they really are in the production process. Ultimately, the wait for Elder Scrolls 6 is likely to be a long one, longer than anything we had anticipated after the announcement in 2018.
A troubling thought for PlayStation fans of the Elder Scrolls franchise is the possibility of the new instalment being an Xbox exclusive after waiting all this time. Bethesda is now owned by Microsoft, and worryingly, Xbox boss Phil Spencer affirmed that any future Bethesda games will be exclusive to platforms "where Game Pass exists" (i.e. Xbox and PC). We have seen this come to fruition with Starfield's avoidance of the Sony console. However, it is not all doom and gloom for PlayStation users. It is possible that Elder Scrolls may not fall under this 'Xbox Game Pass' exclusivity umbrella if Sony has already secured the games on its platform. As also noted by Spencer, "there are contractual obligations that we're going to see through, as we always do in every one of these instances."
Game content…
All we have received (officially) thus far is as little as a logo (see below).
We do, however, know that Elder Scrolls 6 will utilise Bethesda's recently overhauled Creation Engine, as will Starfield. Speaking at the Develop: Brighton conference, Todd Howard stated it's been "a significant overhaul," adding that "it's taken us longer than we would have liked, but it's going to power everything we're doing with Starfield and Elder Scrolls 6. When people see the results, they'll hopefully be as happy as we are with what's on the screen and also how we can go about making our games."
In general, we can expect improved graphics and bugginess, more fluid combat (taking advantage of new consoles) and, lastly, replayability. During an interview with IGN, Howard noted that in the same manner as Skyrim, they aim to make a game that players play for the next decade.
Where will Elder Scrolls 6 be set?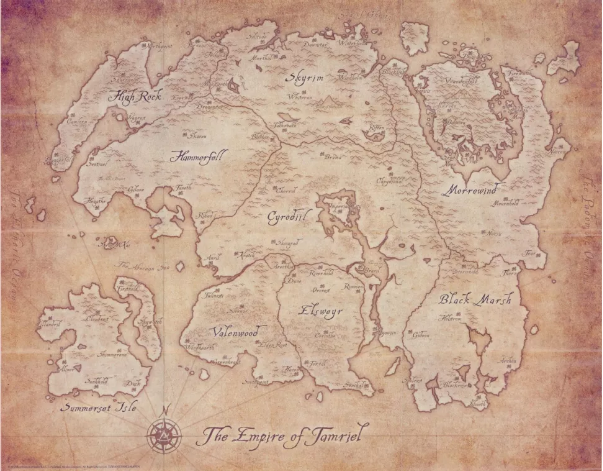 It is likely that, as with the last games, the new instalment will also be set in the continent of Tamriel. Maybe a new unexplored region of Tamriel? Valenwood, Elsweyr and Black Marsh are the biggest places left to explore. On the other hand, the game may revisit some old regions such as High Rock, Hammerfell, Morrowind, Cyrodil, and Skyrim.
As we wait in anticipation, keep it Get2Gaming for all Elder Scrolls 6 news.
To keep updated with the shop activities and weekly competitions, follow Go2Games on social media:
Instagram: Go2Gamesshop
Twitter: Go2Games
YouTube: Go2games.com
Facebook: Go2Games.com