The Gunk is an upcoming third-person action platformer from developers at Thunderful Games and Image and Form. The game is also from the makers of the Steam World games, which I've covered before with the trailer for Headhunter.
The game is an Xbox exclusive (says me, the PS4-thumping Metal Gear Solid fanboy), but it's also on PC for those of you with more brain cells than I!
The Gunk is set to release December 16th, 2021, day one with the Xbox Game Pass . You can also view a fuller gameplay trailer here.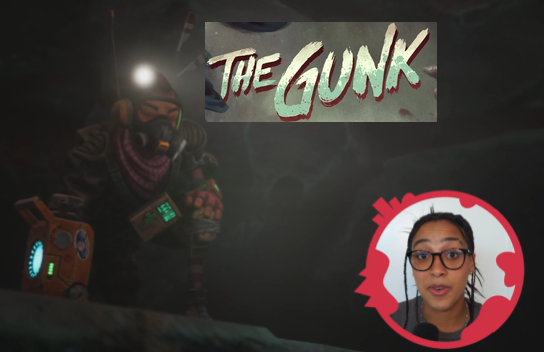 The folks at Thunderful Games released a featurette on their YouTube channel today. The video sees Fiona Nova (voice actress for the Gunk protagonist, Rani) play through and explain parts of the game and development. The Gunk follows Rani and her group of space-faring friends in Cowboy Bebopian fashion, a rag-tag crew looking to make a quick space-buck. Nova also compliments Abigail Turner's performance of Bex, Rani's partner in crime who looks a heck of a lot like Clementine from Tell-Tale's Walking Dead!
A strange mystery unravels when the crew stumbles upon the remains of a long-forgotten civilisation! The locations shown off vary from fantastical gorgeous landscapes to dark foreboding wastelands, heavily implying a possible horror element alongside Nova's comments on the Gunk having good tension-building… Also, given how another blog of mine touched on Critical Race Theory, BEHOLD: The CRT Droid!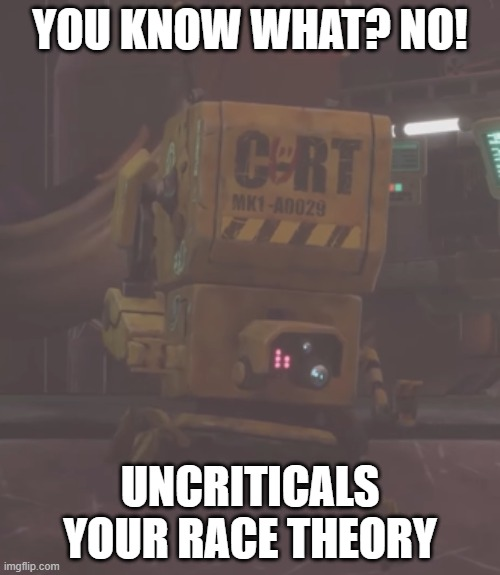 Speaking of race, it really fills me with some good-'ol jingle-tingling in my wibbly-wobbly self whenever a game has a lead woman or person of color in the story. A lot of games feature custom protagonists, you could be bright green with a Pinocchio nose without getting shifty looks in most MMORPGs, but having a specific lead character be written as a woman of color in the first place is a good bit inclusion adding to the wider canon of games as artistic expression… Or in lay terms: Girl power yay, gamergate nay!
In the spirit of Rani having that fancy-shmancy arm-canon thingamajig, here's a question for you smarties reading this… Why in the ever-living space crap do so many black characters in games and TV have a metal arm or gun arms? Like, I'm not complaining, I wouldn't try to bully someone out of getting a sick robot arm just because they'd be better at finger-banging, but it is a little oddly specific. Jax? Barret? Doomfist? Cyborg? And now Jett Black from Cowboy Bebop is added to the list! Swear down I'm not complaining, but hey, sounds like an oddly specific trend to become a thing in pop-culture. Maybe there's an interesting historical factoid behind that.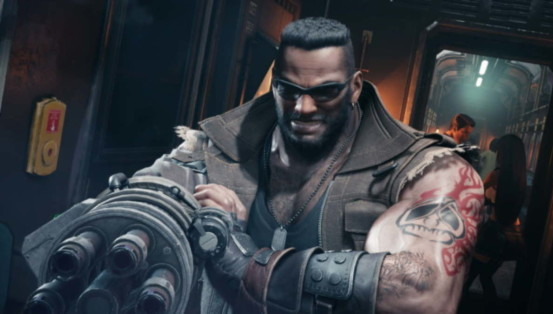 Product Poems:
"Annie, get your gun, gal"! Her mech appeared. "Shooty bang-bang, y'all"!
Call me the supersoaker, cuz I splash mouth in fash-cows like Smash-Mouth!
Sign up for our newsletter from the website.
Instagram: Go2GamesShop
Twitter: Go2Games
Youtube: Go2Games.com
Facebook: Go2Games.com
Store: Go2Games.com