You didn't just think that we'd leave Nintendo Switch fans out to dry when it came to Christmas ideas, did you? Whilst the Xbox Series XS and PlayStation 5 have only had one year on the market, the Switch has been producing high quality content for years, and doesn't look like stopping anytime soon. Launched in 2017, we've had four years of great games, from Super Mario Odyssey to the latest Mario Party Superstars. We've even been treated to some pretty awesome DLC in the Super Smash Bro games. Nevertheless, that doesn't mean we still don't have plenty more ideas for you to buy this Christmas.
If you're looking for a gift for any Nintendo fanatic this holiday season, we've compiled a list of ideas with some of the greatest options the console has to offer. There is a Switch title for every type of gamer out there, so let's start there. Here are some of the biggest Switch games that we've got to offer, so get your pen out and write these down on your shopping list quick!
If these aren't quite to your liking, well fear not. We've got hundreds of Switch games available to purchase on our website. Additionally, these aren't the only options we've got lined up for you.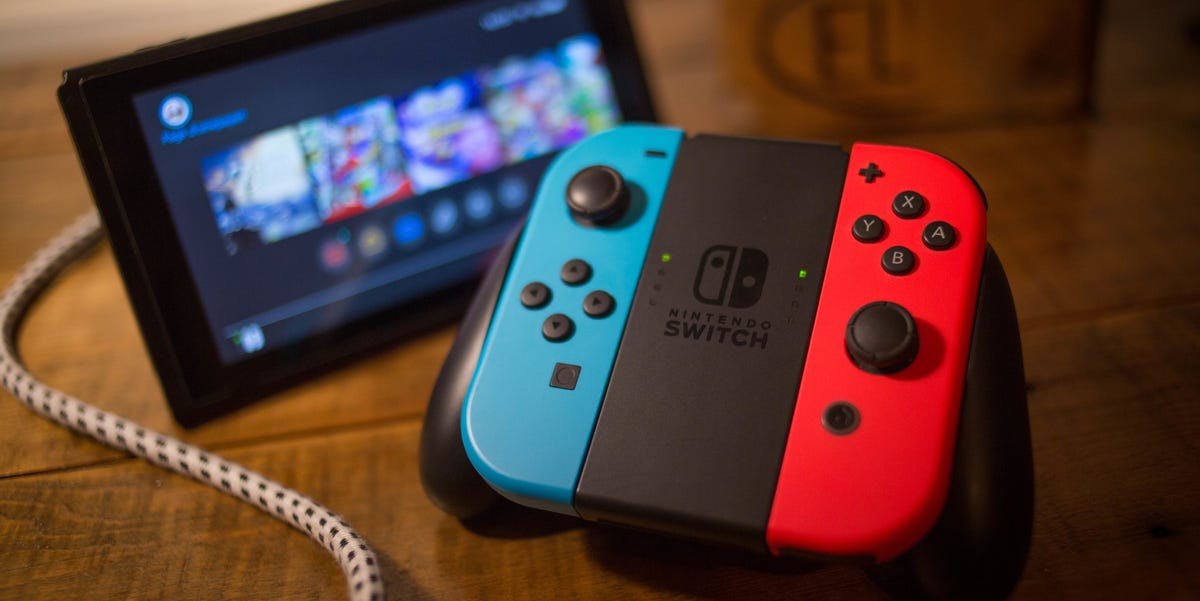 Nintendo Switch Accessories To Purchase This Holiday
Hori Fighting Stick Mini
HORI introduces the Fighting Stick Mini for Nintendo Switch! A brand-new way to embrace the retro and play all your favourite arcade classics and fighting games. This controller features a full 8-button layout and a proper micro switch activated joystick, while being small enough to easily store and transport. The product measures approximately 8' x 6'.
Despite its small size, the Fighting Stick Mini is comfortable with ample room to rest your wrists, and the rubberized feet grip firmly to smooth surfaces for stability. This wired controller features a long cable, turbo, capture button, and is also PC compatible. Perfect for fighting games, arcade style games, and more! We really couldn't recommend this enough for a loved one this Christmas. Don't hesitate, pick up yours here today!
SubSonic Steering Wheels
Looking for that truly immersive driving experience on the Switch? Subsonic has created 2 steering wheels for the left and right joy cons. They're both perfectly suitable to use with games such as Mario Kart 8 Deluxe and Crash Team Racing. This'll be perfect for that Christmas time when everyone is playing family games. Make sure you and your loved one have the advantage though, and pick up your pair here!
Nintendo Switch Deluxe Travel Case The Legend of Zelda
Here's a much simpler gift idea which we're sure any Zelda fan will love.  This Traveler Deluxe Travel Case holds and protects the Nintendo Switch. It has a padded divider to protect the screen and a zippered mesh pocket to hold extra game cards. This Case also includes 2 red transparent game card cases, which hold 4 Nintendo Switch game cards. If you know anyone who's constantly dropping their Switch, well then you know what to do.
Unfortunately, we'll stop the list there, as we could go on for hours recommending you awesome stuff to buy this year. Instead, why don't you check out the Switch section of our online store? It's jam-packed full of gift options for this upcoming Holiday season! Don't hesitate, head over there right away!
Sign up for our newsletter from the website.
Instagram: Go2GamesShop
Twitter: Go2Games
Youtube: Go2Games.com
Facebook: Go2Games.com
Store: Go2Games.com