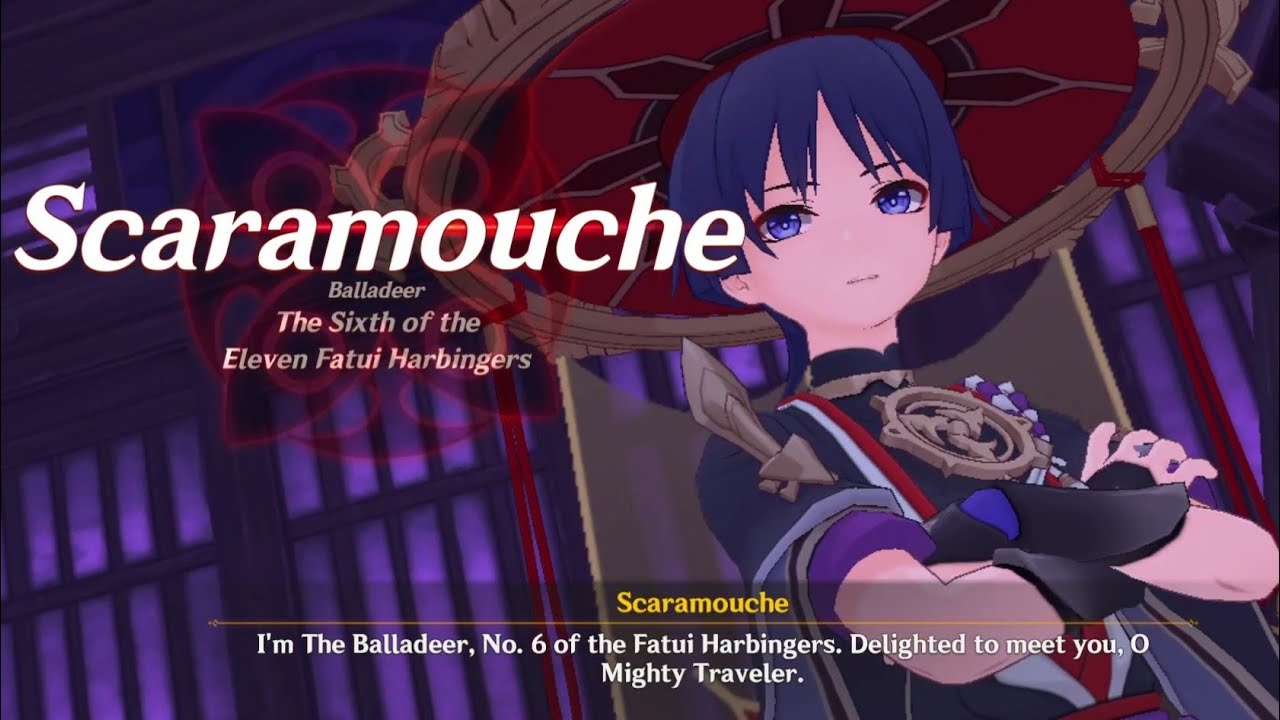 Not only are the playable characters of Genshin Impact reaching new heights of popularity, but the non-playable characters too. One such character is Scaramouche, the new central antagonist in the game. While hopes that Signora would become playable were dashed, many are still holding out hope that Scaramouche will eventually be swayed to join the Traveller, along with his rambunctious colleague, Tartaglia (AKA Childe). Childe was last rerun for the third time in the 2.2 update.
The following known characters to join the roster are Itto and Gorou in the second half of the current update, followed by Shenhe and Yun Jin in Genshin Impact 2.4.
Playable Scaramouche doesn't seem to be on the horizon any time soon, but some new lore has been uncovered through the new artefact set, Husk of Opulent Dreams.
Genshin Impact has a strange tendency to hide important lore in the descriptions of weapons and artefacts. It's a tactic that some people enjoy while others detest. Some feel it is exciting to uncover lore in unexpected places, while others think that it needs to be included in the storyline. One example is that Signora's lore was hidden in the Crimson Witch of Flames artefact set. Now the same has been done with her fellow Harbinger.
Pasted below is the lore description for each the Song of Life, which is the timepiece from the set:
He was originally born to be a vessel for a "heart."
But he shed tears in his dreams.
His creator observed thus:
He was too fragile, whether it be as a human or as a tool.
Yet his creator would not destroy him, and so allowed him to continue slumbering.
In her latter works, she would also consign designs that might store such a heart to obsolescence.
Not long after, that noblest and most prestigious "proof" in the world would come to have no home,
And thus was sent to the great shrine at Mt. Yougou.
Later, the beautiful puppet awoke and began his wanderings.
He observed many a heart,
Good ones, upright ones, strong ones, gentle ones…
The puppet, too, desired a heart.
Later, the lovely puppet would finally obtain that "heart."
It was, after all, his purpose for being, the very reason he existed.
Yet, it was not what the puppet truly desired,
For it did not contain any blessings,
But was instead a sacrifice brimming with selfishness, hypocrisy, cunning and curses,
All wrapped in an amiable husk.
Good and evil were the song of sentient life, useless and cacophonous.
But if he were to wrench this "heart" out,
He would no longer be able to feel anything at all…
The heart mentioned in the story refers to the Raiden Shogun's Gnosis. Scaramouche was apparently created as the Shogun's puppet to house the gnosis, but he was too emotional and 'shed tears in his dreams', which the Shogun considered a weakness.
She, therefore, took away the heart, and Scaramouche wandered heartless, yearning for a heart.
Fans have already come up with the heartbreaking theory that this is why Scaramouche uses a large hat to hide his facial expressions – he thinks showing emotions equate weakness. This also would make sense with what he said to the Traveller, 'you've changed, you're getting weak', as the Traveller has formed attachments since their first meeting in a limited event.
He has now obtained the Gnosis/heart, and according to the lore, he is still unsatisfied. I wonder what his next move will be, considering that he seems to have disobeyed his fatui colleagues.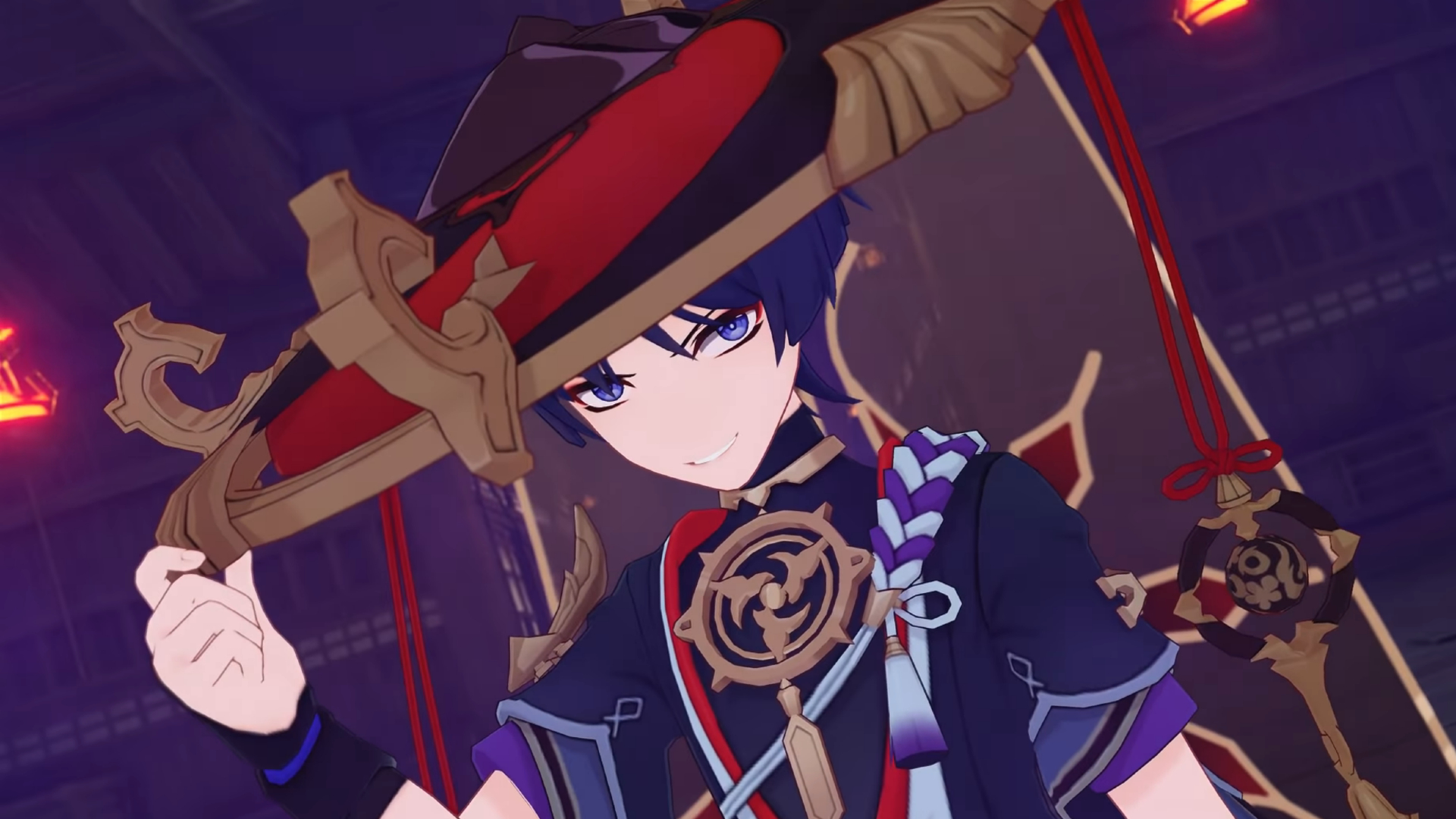 Since the beginning of the game, I was pretty resentful towards the fatui because of Signora's treatment of Venti. I eventually came around on Childe, seeing as he seemed to harbour complex feelings towards the fatui. Unlike Signora and Scaramouche, he has fostered a better relationship with the Traveller (hence, he's a playable character). Plus, it's hard not to fall for his sweet big brother side.
As terrible as Scaramouche's actions are (and the Traveller would have been toast at his hand if it weren't for the actions of Mona and later Yae Miko), his backstory does tug at my heartstrings a bit. I mean, a lonely little puppet wandering around and aching to have a heart? THAT IS SO SAD…
If MiHoYo does decide to make him playable, they'll have to give him a redemption of sorts for it to make sense – similar to ex-antagonist, the Raiden Shogun. Hopefully, it goes a little better, as fans weren't too pleased with the waifu-ification of the last arc's main antagonist.
Genshin Impact is available to download and play for free on PC, mobile, and PS4, as well as the PS5. If you haven't been able to get your hands on the new PlayStation console, register your interest at our shop.
Sign up for our newsletter from the website.
Instagram: Go2GamesShop
Twitter: Go2Games
Youtube: Go2Games.com
Facebook: Go2Games.com
Store: Go2Games.com