This week, we were focused on writing blogs, and I got to explore various topics.
The highlight for me was writing an article on the Attack on Titan x Sanrio collab – I even included my own art of Hello Kitty Erwin.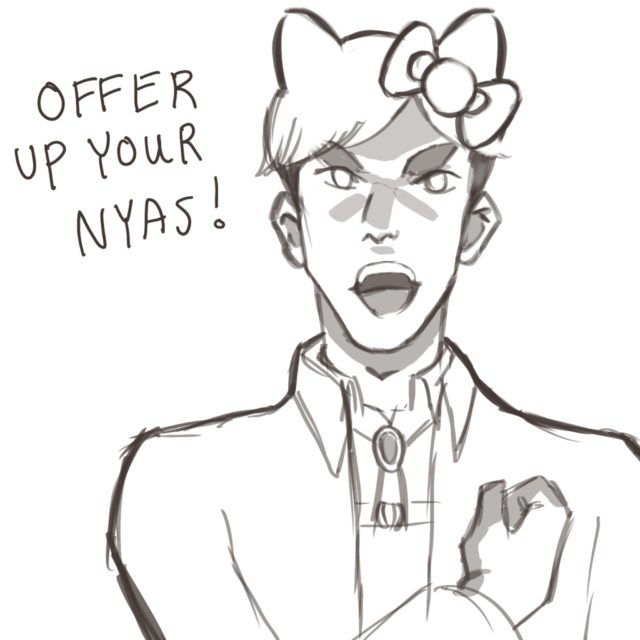 I would love to put my drawings to use more often in my articles when the opportunity arises! Another important article to me was this one on Battlefield's first non-binary operative since I'm non-binary myself. Perhaps I'll also pre-order Battlefield 2042 from the shop.
I've also been enjoying the spooky shenanigans for Halloween. I ran out of articles to write on on Wednesday, so I made an original article: a list of indie games for Halloween. Unfortunately, though, I had an episode related to a chronic illness, and on Thursday, I was out of action. I'm doing much better today. It seems I just needed to catch up on rest. On that note, I've postponed my Genshin stream – but I will get there! Perhaps I'll stream my pulls for Itto?
A friend is hosting a Halloween party this weekend, and though I'm still feeling a little rough, it's just a small get together, and I wouldn't want to let my friends down.
I definitely need to make time for some spooky games though. Maybe something from our selection? I highly recommend checking out Emma's article for a more detailed breakdown of some of the available titles.
As for other personal details, I've joined a new writing Discord for my creative work! Everyone seems rather nice and helpful.
Lastly, an update on the Sanrio collab…
\コラボレーションイラスト⑤/
描き下ろしイラストを公開!

本日は「ポムポムプリン×ジャン」のイラストです。
ポムポムプリンはオムオムをどこへもっていくのかな。。。#進撃の巨人 #shingeki #サンリオ pic.twitter.com/X1rXCmvQiY

— 進撃の巨人×Sanrio characters (@AOT_Sanrio) October 28, 2021
Jean… I'm obsessed.
Hope you've all had a fantastic week as well!
Fancy some gaming treats for Halloween? Use the code HALLOWEEN5 for 5% off of all the titles in the Halloween section of our shop.
Sign up for our newsletter from the website.
Instagram: Go2GamesShop
Twitter: Go2Games
Youtube: Go2Games.com
Facebook: Go2Games.com
Store: Go2Games.com
Before you go: grab these voucher codes for use at Go2Games!
These offers end on November 1st
Use ARKEVOLVED10 for 10% off ARK: Survival Evolved (Code In A Box) (Switch)
Use ULTRAMOON10 for 10% off Pokemon Ultra Moon Fan Edition (Nintendo 3DS)
Use ULTRASUN10 for 10% off Pokemon Ultra Sun: Fan Edition (Nintendo 3DS)