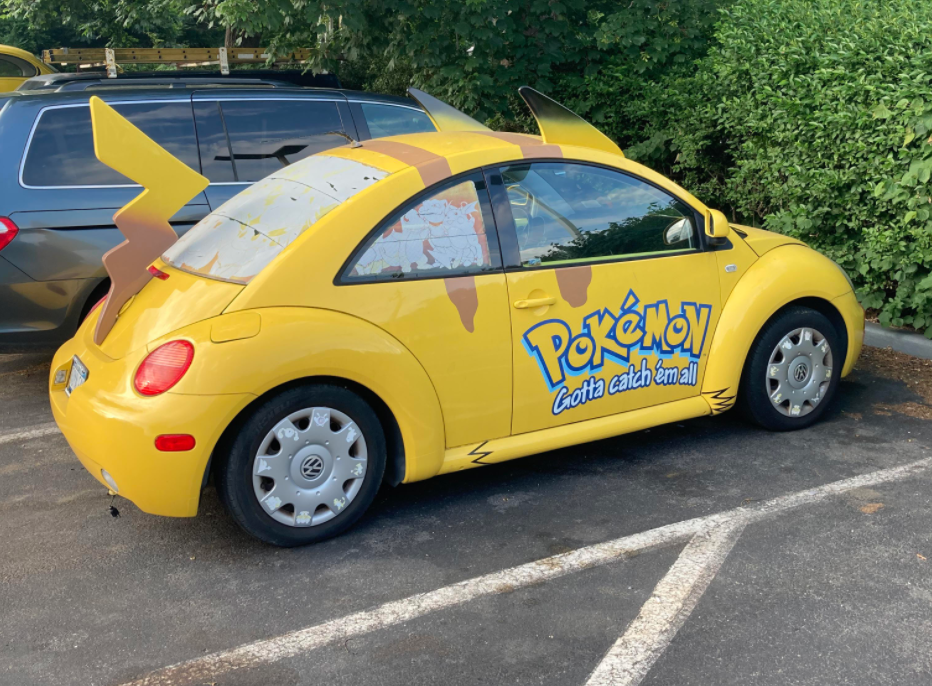 A Pokémon fan spotted a unique and rare Pikachu car in their local car park and it's in good time for the 25th anniversary.
Pokémon's 25-year-long history has certainly seen much mind-blowing merchandise and incredible promotions…but who would've thought one of these would be a Pikachu car? Other merchandises has ranged from concerts to Pokémon TGC rare cards which are still as popular as it's ever been. Even as times move on to the throughout generations of fans, it's difficult to ignore what has been created in the late 1990s.
The first mainstream Pokémon video games were released in Japan in 1996, the franchise was flowing in an abundance of popularity when was released in the western countries in 1998, then released to other countries in 1999. The Pokemon TCG, video games, movies and anime were more than just amazing, in fact, incredible would be an understatement. They appealed to the younger generation but were also booming in popularity amongst adults as well, with the promotion reaching sky high as well.
MantaRayBoi, a user in Reddit, posted an image of an insane Pikachu-themed Volkswagen Beetle they happened to stroll across at their local petrol station. However, it's known that back in 1998, only ten Pikachu-themed cars were made to promote the launch of the rising Pokemon franchise in the US.
Mewisme700, a youtuber and Reddit user, who is also a big Pokémon fan, actually owns this car themselves. Their particular one being sold by FAO Schwarz (An American toy company). Mewisme700 goes into detail on a youtube video about the history of the Pikachu Volkswagen Beetles, they explain that these cars were not officially registered through Nintendo were retailed for over £26,000. On top of that only two Pika Bugs had been sold, despite the fact, the company has planned to sell fifty. Which in turn, makes that specific care all the rarer than the authentic ten. From the start of their journey and over the passing years, these cars have been to promote different video games releases, movies, anniversaries and E3 1999. The Pika Bugs had an adorable little speaker that played Pikachu voice-lines.
While this is an extremely rare shot for a fan, it is most fitting to catch sight of  Pikachu themed car with the Pokémon's 25th anniversary, it will be intruiging to see if there will be any more Pika Bugs created for future fans to purchase or perhaps more spotted in the coming years.